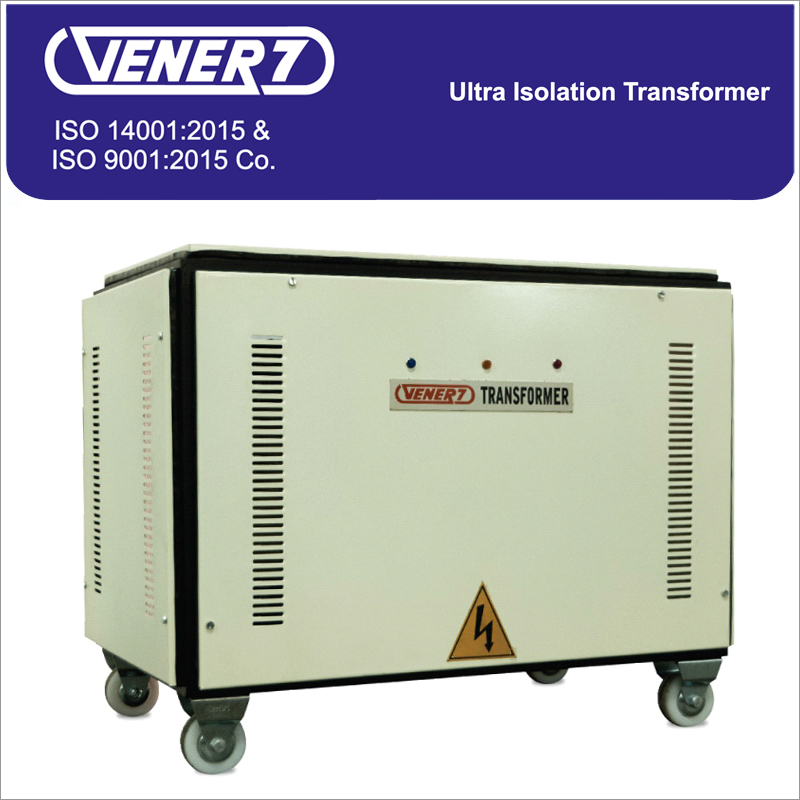 Ultra Isolation Transformer
Product Description
Leveraging on ethical business policies and a team of dedicated professionals, we are able to manufacture, supply and export a wide array of Ultra Isolation Transformers. Available at reasonable prices, the offered transformers are made using finest quality raw material sourced from the reliable vendors of the market. Our exclusive range of products is available in different capacity and other specifications as per the needs of our esteemed customers. We offer portable product by employing the latest technology in compliance with the industry standards to ensure their safe usage.

Other information:

VENER7 power Line Noise Isolator is an ultra isolation transformer which prevents passage of line voltage transient, spikes and galvanic leakages from reaching sensitive or critical equipment like Computers & its peripherals, Medical Instrumentation, Digital communication and Telemetry systems etc.

VENER7 power Line Noise Isolator range employs a unique multiple shielding technique that reduce the inter winding capacitance to below 0.009 pf and DC Isolation to over 100M ohms. Attenuation of common mode noise is about 100dB. Regulation at 400 or 415V AC is about 4 %.

Filters Power Line Noise, Spikes and Transients.
Isolates Sensitive Equipment's from Noisy Power Lines.
Complete Electrostatic Shielding.
Minimizing Common Mode Noise by Over 130dB.
Minimizes Transverse Mode Noise.
Line and Load Regulation better than +3.5%.
Quality Components, Conservating Ratings and Rugged Design for Best Long Term Value.
| | |
| --- | --- |
| Rating | As per requirement |
| Input Voltage | 400 or 415V +/- 10% (Phase to Phase) Star or Delta connected |
| Output Voltage | 400 or 415V +/- 10% (Phase to Phase) Star or Delta connected |
| Ratio | 1:1 Isolation Transformer |
| Regulation | + / - 4% |
| Wave Form Distortion | Nil |
| Suitability | Suitable for all power factor loads |
| Cooling | Natural Air Cooled |
| Duty Cycle | Continuous 24x7 |
| Spike Clamping Level | 500V (Normal) |
| Spike Voltage | 6kV (Max) |
| Spike Current | 5kA (Max) |
| Response Time | 5 Nano Sec |
| Break Down Strength | 2500V AC for 120 Sec. |
| Insulation Resistance | Greater than 100 mega ohms at 500V DC |
| Class of Insulation | F Class |
| Installation | Indoor type |
| Degree of Protection | IP - 30 |
| No Load Loss | Less than 0.5% |
| Efficiency | 97 %. |
| Winding & Wiring Material | Copper EC grade (99.9% Pure) |
| Transformer | Heavy duty Copper Wound Transformer. |
| Input / Output Termination | On Brass studs / Connectors / Copper Bus Bar. |