Distribution Transformer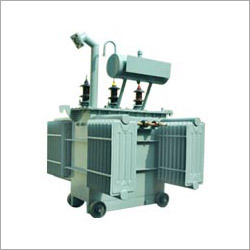 Distribution Transformer
Product Description
We are one of the leading and prominent manufacturer, supplier & exporter of Distribution Transformers, Power Distribution Transformer from Delhi, India. We are supplying Distribution Transformers, Power Distribution Transformer to various cities like Ghaziabad, Noida, Greater Noida, Faridabad, Delhi, New Delhi, Sonipat, Panipat, Jaipur, Neemrana, Ambala, Pontasahib, Jammu, Agra, kanpur, Lucknow, Gorakhpur, Ranchi, Patna, Rohtak, Jhansi, Dehradun, Haridwar, Moradabad, Meerut, Prayagraj, etc.
We are known as one of the leading manufacturers, suppliers and exporters of optimum quality Distribution Transformer. This transformer is admired in the global market for its longer service life, high efficiency and voltage capacity. With an ISO 9001:2000 certified mark, our offered products adhere with the set industry standards to ensure their flawlessness. We offer transformer that is used to carry electrical energy and provide electric supply in various industries. Available at affordable prices, we provide Distribution Transformer at the clients' destination within given time period.
Distribution transformer is used to convert electrical energy of higher voltage (usually 11-22-33kV) to a lower voltage (250 or 433V) with frequency identical before and after the transformation. Application of the product is mainly within suburban areas, public supply authorities and industrial customers. With given secondary voltage, distribution transformer is usually the last in the chain of electrical energy supply to households and industrial enterprises. Some of the salient features of Vener7 Distribution Transformers is as follows :
1. Core
Core is made from best grade imported cold rolled grain oriented silicon steel lamination with the latest technique of annealing. Interleaved and mitered joints reduce the core losses and magnetizing current considerably. Core is specially designed to sustain over-fluxing up to 12.5%. Core is clamped with steel channels rigidly to reduce the cartite sound level and earthed with electrical grade copper sheet.
2. Winding
The winding cab be of any type (i) spiral (ii) crossover (iii) helical (iv) disc, designed to withstand the optimum electrical, mechanical, dynamic and thermal stresses depending upon the current and voltage. The coils are wound with electrolytic grade high conductivity, annealed wire and strips covered with high quality insulation. All coils are reinforced, insulated to withstand the effect of short circuits and impulse voltage shocks. Cooling ducts are provided to minimize the hotspot temperature and temperature gradient between winding and oil.
3. Insulation and Oil
The insulation material like pre-compressed boards, blocks, corrugated cylinders, Bakelite tube, insulating tapes, empire sleeves, glass sleeves varnish, epoxy bushing, porcelain bushing etc. are used of best quality to ensure long life to the transformers. Oil used as a coolant and insulating medium is of the best quality conforming to IS: 335. Before filling into Filtration Plants and tested to ensure free from moisture and dust.
4. Tank and Radiator
The tanks are made from premium quality mild steel sheets, plates and pipes by electrical welding. Proper bracing and stiffeners are provided for robust construction. The tank are tested at specific pressure for leakage at joints/welds. Sufficient cooling radiators are provided for maximum dissipation of heat during extreme ambient temperatures. The radiators are made from best grade pressed steel fins or elliptical tubes.
5. Painting
Tank surface exposed to atmosphere is painted with two coats of red oxide paint to provide maximum resistance to corrosion and two coats of epoxy based anti-corrosive enamel paint. Surface in contact with oil is treated with two coats of 'Oil and Heat Resistant Paint'. This paint has more effective resistance compared to ordinary enamel paint against corrosion and oil/heat reactions.
6. Vector Group
Various vector groups can be provided as per demand.
7. Temperature Rise
Our transformers are designed for maximum temperature rise at full rated load 40 degree c/50 degree c for oil/winding for aluminium wound transformers and 45 degree C/55 degree C for copper wound transformers.
8. Overloading
Our transformers are designed for overloading excess than normal rating as per IS:6600.
9. Fitting and Accessories
Standard fitting recommended in IS 2026-1977 are provided. Extra fittings like buchholz relay, dial type thermometer, winding temperature indicator, marshalling box, H.V. & I.V. cable boxes, PRV and OSP are provided as per the requirement of the customers.