Digital Voltage Stabilizer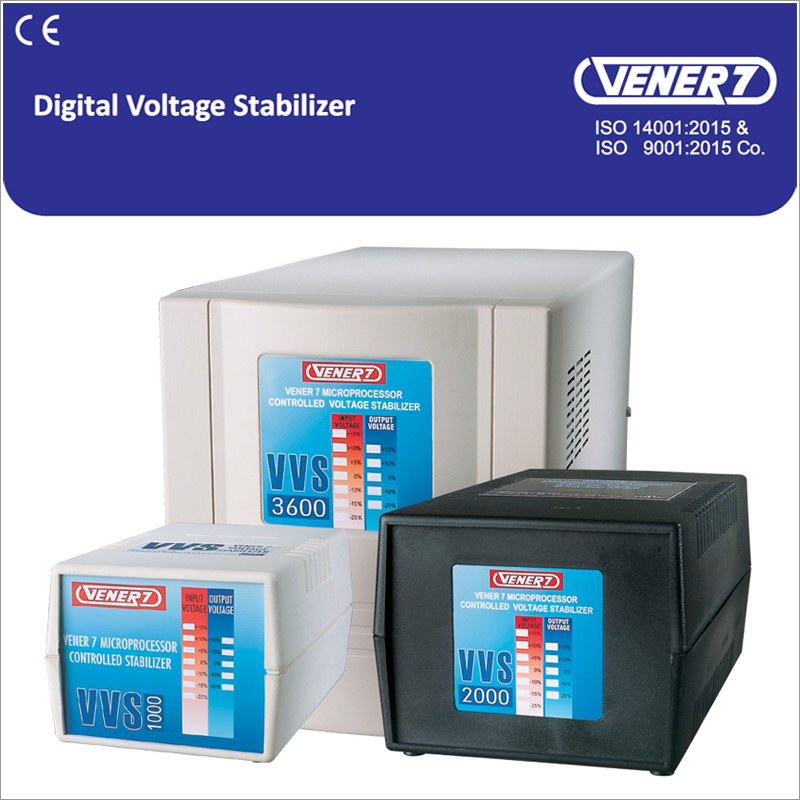 Digital Voltage Stabilizer
Product Description
Backed by a team of skilled and trained professionals, we are able to manufacture, supply and export Automatic Digital Voltage Stabilizer. Highly demanded in the international market, the offered stabilizer is used in various residential & commercial establishments. Available in different capacities and technical specifications, these stabilizers meet the demands of our valuable customers. We ensure delivery of high-quality product within stipulated time frame at the desired destination, with the help of our wide distribution network.
Voltage fluctuations can reduce the efficiency of all types of electrical and electronic equipment and damage them. The Vener & range of Automatic Digital Voltage Stabilizers protect your gadgets against voltage fluctuations. The stabilizers are designed to provide a clean, regulated AC power supply in environments with unreliable, fluctuating mains supply. In the event of a fluctuation in the voltage, the stabilizer will stabilize the output to ensure that the voltage reaching your equipment remains constant at 220V (+ 6%) and 220V (+ 9% in ER Models) within the operating range of the unit.

Our Automatic Digital Voltage Stabilize can be used with all types of electrical and electronic appliances. They are particularly useful for:

Refrigerators
Air Conditioners
Freezers
Television Sets
Hi-fi Equipment
Microwave Ovens
Washing Machines
Water Coolers
Photo Copiers
Fax Machines
Computers
Laser Printers, etc.
Operations

The VVS monitors the main voltage continuously. If the voltage rises or drops the VVS will stabilize the output to ensure the voltage reaching your equipment remains constant at 220V(+6%) and 220V (+9% in ER Models) within the operating range of the unit.
If the input voltage falls below or rises above the input voltage range, the VVS will disconnect the output, thereby protecting the load. Once the mains voltage returns again within acceptable limits, the VVS will reconnect the output following a start up delay.
Microprocessor Controlled Circuit

Using superior microprocessor controlled circuit the VVS is virtually the most powerful, intelligent and feature packed Digital Voltage Stabilizer available.

Cutting Edge Technology

With the use of latest digital technology that is backed by its own intelligent decision making, the VVS takes the concept of control and precision of electric output to an unmatched standard of perfection.

Fault Detection System

The VVS analysis its own working at all times by sensing if the measurements being made are unreasonable and disconnects output to the connected equipment. Red and yellow LEDs flash alternatively to indicate a fault.

Output Accuracy

The VVS owing to its superior design keeps the output voltage within +6% range, thus making it suitable for sensitive equipment to be run safely even while running on generators.

Low noise filtration

Frequency and voltage measurement smoothing in software to filter noise that is conventionally associated with stabilizers.