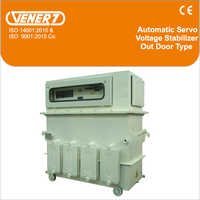 Three Phase Oil Cooled Servo Stabilizer Outdoor
Product Description
Provided
Three Phase Oil Cooled Stabilizers
for outdoor utilization are helpful in preventing the immersion of dust and foreign materials. The transformer oil is utilized for cooling of transformers. Smaller evaluations are widely utilized in industries such as spinning mills & garment. The higher ratings are employed for big machinery or for the entire factory. Available in three phase, these come with improved efficiency and power factor when provisioned constant voltages. The
Three Phase Oil Cooled Stabilizers
for outdoor provide protection to expensive manufacturing devices from high/low Voltages thus making reduction in the the fixing cost.
Key Points :
Provide absolutely stable output even under the intense conditions of imbalanced voltage.
Suitable to proffer protection to the electrical & electronic equipments from the low & high voltage.
Adaptable setting of O/P Voltage is offered for users.
Auto restart time pause, offered with total accuracy and safety.